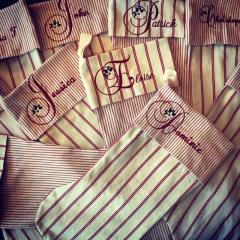 Welcome to a wonderful, beautiful new year! The 2018 Christmas holidays were wonderful and filled with love, family and friends, and as always, I am so grateful. Also, as always, I was overwhelmed and stressed for time! Don't we all have that one friend that kicks back and relaxes sometime around November 1st, ready to just enjoy the season because not only are the gifts made or purchased, they're wrapped! What??? Every year I say I'm going to… you know the drill. 2019 is my, OUR, year to shine! It really doesn't matter what your budget is, just make a decision on that, and let's start planning.
The very first thing, and this is really essential, is this: If you like to send out Christmas cards, (We actually got one in the mail, the day after Thanksgiving and I hadn't even purchased ours yet), then get out your address book or get on your computer where you keep your address list, and organize that thing! Add in the new or changed addresses and do it now while it's fresh and you might still have 2018's cards still around. Put a nice big piece of paper in there (the address book) and start a list of recipients for 2019's Christmas Cards. Add to it as needed.
Go to the store, or go online and see if there are some beautiful cards that you just love, on SALE! I just got ours from Victorian Trading Company for $2.99/box of 15 – CHEAP! We've done the picture cards, and I love them, but I figure I'll make copies of 1 picture and add it to the card. If you're planning on doing the picture cards from one of the on-line places, or Costco, make a special folder in your Photo files on your computer and add possible pictures that you might use. You can add to it all year and then cull it when the time gets close, but it will most definitely make the actual ordering easier.
So make a fresh cup of coffee or tea… or wine, and put this in order – I promise, you'll be happy you did. It's great to have this list in your contacts AND a hard copy, just in case… TTFN ~ Julie