T-Shirt Quilt? What a wonderful way to showcase (and snuggle) memories! I take about 20 of your t-shirts, stabilize them, cut them up, add some fabric and sew them back together, then quilt the whole thing with a nice Minkie on the back and you have something gorgeous, like this one! This one started with 20 T's and my customer picked out a jelly roll (2 1/2″ roll of fabric from my pre-cuts page) from the choices I gave her, and the finished product measured 67″ x 85″. It takes between 3-4 weeks from start to finish and the cost is roughly $ 0.07/square inch – this one was $400, and that's about the average cost for these quilts. This includes shipping your finished quilt back to you.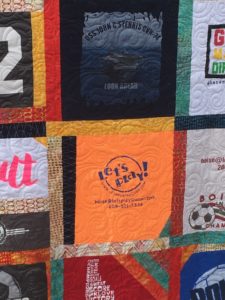 This particular kind of quilt is just a wonderful gift. Sports are the most obvious choice for this, but concert T's and travel T's make really great gifts as well. Men can be so hard to buy for, and really tough when it comes to something really special… and I'm generalizing here, but most guys have a T-Shirt drawer of T's they wouldn't think of throwing away, but also, don't wear! Having them made into a quilt is a really great way for them to USE them. I'm happy to embroider a special note on the back.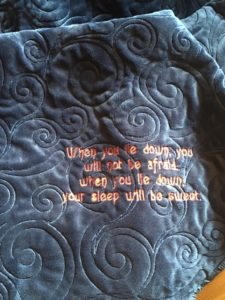 I ask for your preference, and I'm known to take direction, however, I ask for a bit of artistic license – I don't get too "artsy", but you have to let me do what I do… if you know what I mean!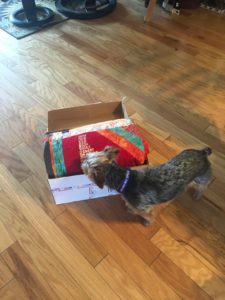 If you're interested in having a custom T-Shirt quilt made for you, please email me with your questions ~ Julie@MontanaQuiltingCompany.com