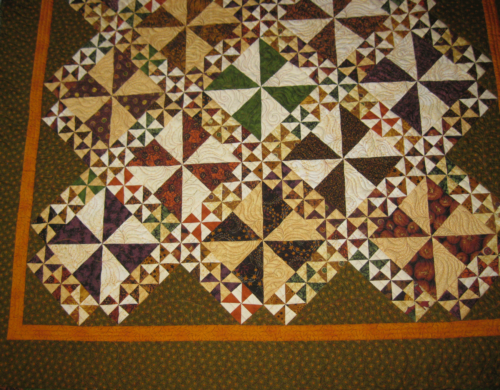 This quilt was the never-ending half square triangles! The Thursday girls all made this in Christmas fabrics, and I made mine in a "Fall" line that I found in Houston at the International Quilt Show. This was a really fun quilt to make and is still one of my favorites.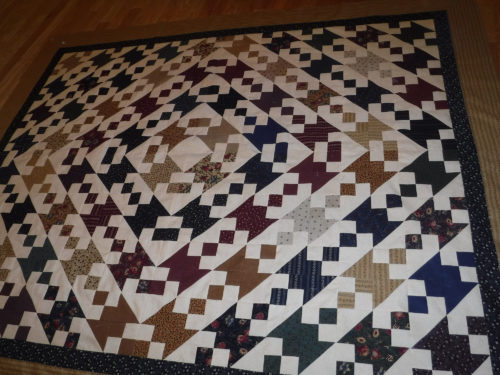 This quilt was made using "Sunflower Song" by Kansas Troubles for Moda. I used one layer cake, and then a few yards of a light fabric. I cut each 10″ square into 5″ squares, and each block is made of 2 half square triangles, and two four patch blocks using matching fabrics, along with the back ground fabric
. It was super easy – except that you have to square up your blocks because the half-square triangles are a tiny bit bigger than the 4 patch blocks. I really love the way it came out!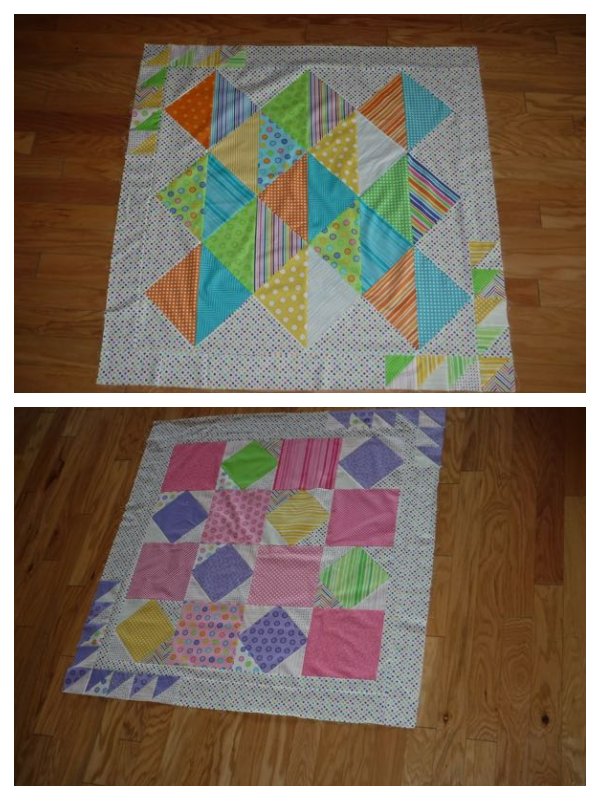 I made these two baby quilts by separating the 10″ squares from the layer cake "Dot Dot Dash" by Me & My Sister for Moda. I added some background fabric from the same line and had a baby boy and baby girl quilt! One is half-square triangles and the other is a snow-ball quilt.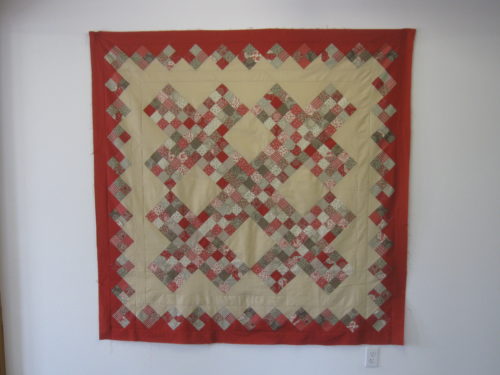 This quilt was made by Rebecca, one of the Thursday Girls, just for Montana Quilting Company! It's made from 1 Jelly Roll of Joyeux Noel and a few yards of the Oyster, by French General. She made this out of the Passion for Precuts book.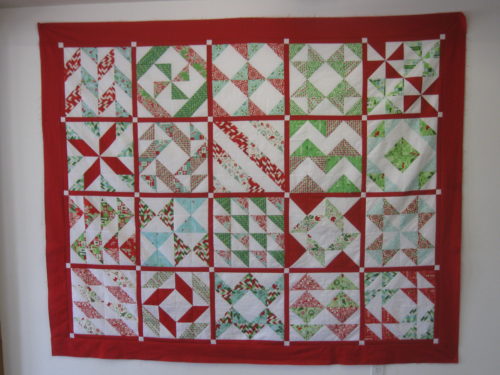 Christmas Sampler Quilt
I made this quilt out of one Layer Cake (Jingle by Kate Spain for Moda), a couple of yards of solid bright white, and a little bit of bright red fabric. I got the idea from this post by Material Girls https://materialgirlquilts.wordpress.com/2014/02/07/layer-cake-sampler-quilt-along/. I confess, I did not read the directions because I thought it was pretty self explanatory. On the back of the Layer Cake packaging, there is a picture that explains how to sew and cut it into 8 half-square triangles. I put one 10" piece from the layer cake, right sides together, with a 10" piece of solid white, marked the square with a pencil, sewed the lines and then cut the square apart – as it shows on the back of the layer cake package. I did square up the triangles before I ironed them out, using Eleanor Burns square up ruler, which I sell for $12.00 *it's the best twelve bucks you've ever spent! Cut off those dog ears before you iron! I played with the half-square triangles from 2 layer cake squares (it takes 16 half-square triangles for each block) and then I sewed them together. The blocks measure 15 inches square. I sewed the quilt together using 1 ½" x 15" bright red sashing strips, and 1 1/2" x 1 1/2" white corner stone squares, 4 across and 5 down – see the picture. This turned out even better than I expected and was really easy and fast to get together.
Requirements:
40ea 10 inch squares from the layer cake
White fabric:
40ea 10 inch squares cut from white fabric
Cut 2 strips 1 1/2" *sub cut into 1 1/2" squares
Red fabric:
Cut 25 1 1/2" strips *sub cut into 15" strips
Cut 8 4" strips for borders
Cut 8 2 1/2" strips for binding
This quilt measures 72" x 88" when complete
---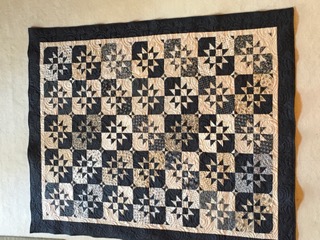 This is called "Disappearing Hourglass" by Missouri Star Quilt Company by Jenny Doan. She has a nice You Tube video on how to put this little beauty together. I asked Angie, a friend that thinks she's a beginner and doesn't know much (she makes beautiful quilts, but lacks confidence!) and she made this with one layer cake and a few yards of extra fabric from Kathy Schmitz's Sturbridge line. Isn't it gorgeous?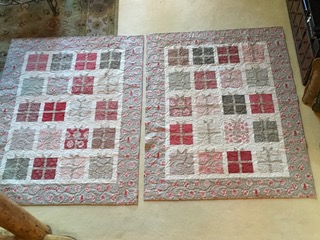 Joyeux Noel by French General for Moda! This pattern, by Missouri Star Quilts takes one single Layer Cake and a few yards of two different fabrics, and completes TWO quilts! It's easy and the quilts are just gorgeous! All of Jenny Doan's quilts (Missouri Star Quilts) can be found on YouTube, their website, or in their publications. What a great Christmas gift!